Energy services that benefit people in energy poverty need to be well defined: they only make sense if they meet the needs of those vulnerable consumers while, at the same time, being economically viable. POWER UP pilot cities take up that challenge and design social entrepreneurial solutions. But how to determine the right long-term business model for something as innovative as that? Starting from the classical business model canvas, which is a practical tool commonly used in business organization and marketing, the project partners worked one-to-one with people in the pilot areas of Eeklo, Valencia, Heerlen, UCSA (gathering 4 municipalities in the South of Italy) and Roznov. The aim was to create a solid framework for the energy services they will carry out within the Power UP project for and with people in vulnerable situations.
This document can help you understand how each pilot, starting from its very specific local situation gives shape to its business model and strategy to generate energy efficiency and renewable energy while fighting energy poverty.
The following five business models were initially identified as suitable impactful answers to the complex phenomen of energy poverty: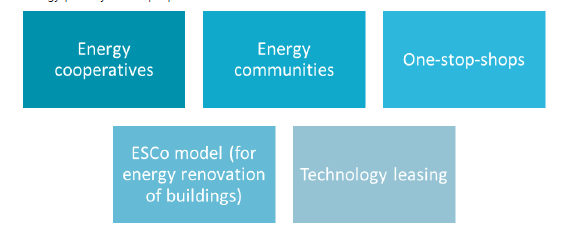 This document is Part 2 of the project's deliverable D2.3: Local state of the art on energy systems, energy poverty and assessment of preferred business model options for local energy players. Don't miss out on Part 1 "Understanding Energy Poverty Characteristics at the Local Level" which presents and analyses the energy poverty situation at both a national scale for each of the project partners' countries – Belgium, Czech Republic, Italy, Netherlands, North Macedonia, and Spain – as well as at the local level where the pilot projects will be implemented.