Guest article by Omnia Kandil with support from Miriam Eisermann
Innovative solutions to provide affordable energy while empowering the affected citizens have become a necessity. The Power Up project explores consumer empowerment framings and promotes the emergence of local energy market players with a socio-ecological agenda. Why? Well, providing energy services at the local level and with public support can be effective in addressing energy poverty. So who are these players? In this article we look at the type and form of organisation that can play such a role.
Ever heard of social energy market players?
Let's have a look at who stands behind this rather abstract wording. We are talking about organisations that operate on the energy market and with a social agenda. This means they provide energy services which are meant to have a positive social impact on people. This includes many types of organisations and individuals, ranging from public utility companies to co-operatives and charitable enterprises. Generally, their self-defined mission is to provide effective solutions to energy market failures like energy poverty or low investments in renewable energy. Their business can be caracterised as being low-cost and/or not-for-profit.
More and more municipal governments do support social energy players. Not only in form of funds or subsidies, but also by providing advice, logistical support, facilitating licensing and installation. This comes as an economic and social necessity if we do not want that big private companies fully control the market. That's why, the engagement of a multitude of socially-driven energy providers is crucial for a well-balanced market.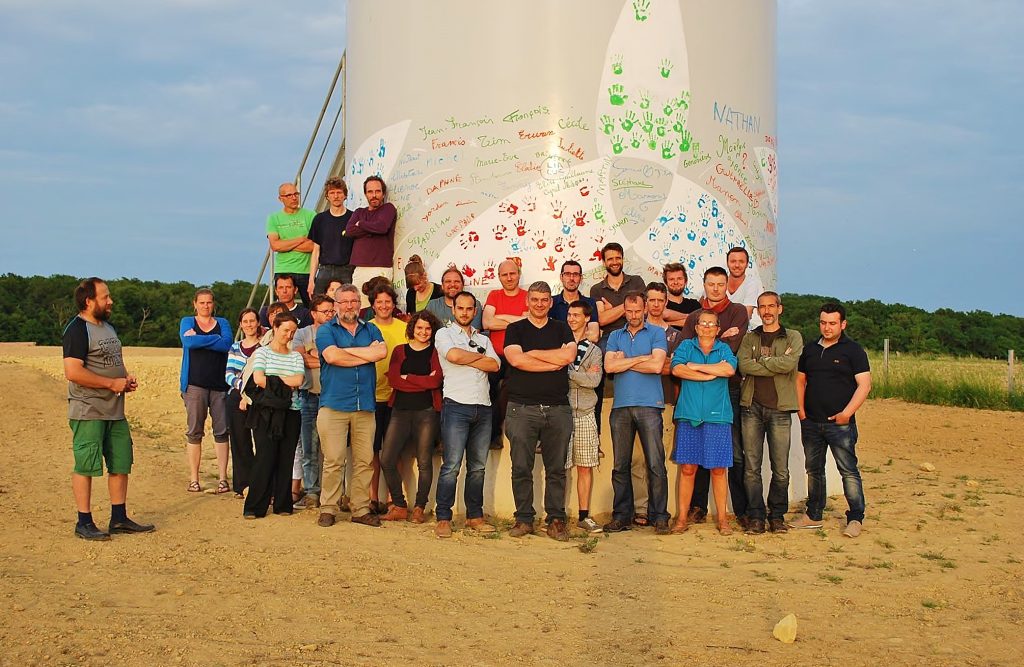 Cooperatives, one powerful social energy market player
One of the more well-known examples for a social energy market player are cooperatives. It's a group of self-organised people who cooperate to meet common environmental and social objectives in an economic context. Most often, these are committed citizens who want to have control over their energy and become prosumers, i.e. market actors who generate energy, energy advice or other energy services.
That way they stop depending on huge, central and often commercial providers. On a side note, a cooperative can be commercial as well, but it's not for profit and more people-centred, where the members have a say (often in a one voice-one vote mode) on how money is being invested and on which activities. This also creates job opportunities and many other positive side-effects within the local community.
Spotlight on a longstanding cooperative: Ecopower and its fight against energy poverty
Ecopower is both partner in POWER UP and a 30 years old cooperative that is well-established in the Belgian energy landscape. Known as one of the pioneering renewable energy cooperatives in Europe, it counts today over 65.000 members. 80% of them use the electricity at home. Ecopower is a major developer and (co-)financer in cooperative renewable energy installations in the Flemish region of Belgium. Supply of energy is a service to the members. The cooperative lowers the energy bill with local energy generation to all its members. 70% of them have only one share in the cooperative at a unit price of 250 EUR. Within the project and together with partners, Ecopower aims at removing barriers for vulnerable households to consume affordable, local and green electricity. These barriers comprise:
lack of money to buy a share of €250 to become client of Ecopower
debts with DSO preventing to change energy supplier
knowledge gap about (changing) energy suppliers
For those vulnerable households who do not already systematically underuse and self-ration their energy, Ecopower will help them decrease their use of energy by providing information on energy efficiency. In the POWER UP project, Ecopower and the city of Eeklo will jointly focus on a financial scheme for vulnerable and indebted households based on revenues of an existing wind turbine owned by the city and the cooperative to enhance access to local green energy at a fair price.
Why aren't there many more cooperatives in Europe?
There are multiple reasons. Western and Northern European states seem to have a longer and more recognized tradition of cooperatives than Southern and Eastern European countries. There are still some countries in which cooperative activities have a bad reputation, mainly due to their historic association with communist parties.
But they are there and their presence and prevalence differs from one Member State to another, with different degrees of:
financial abilities of citizens to take shares
the willingness of local community members to proactively engage in community projects (most cooperatives' members engage on a voluntary basis)
The awareness of citizens about the benefits brought by cooperatives.
This makes it even more important to ensure a common understanding, shared values and goals, healthy communication and, what's more, a much stronger inclusion of vulnerable people, their needs and experiences in the design of proposed energy services.